Åpne en WebMoney konto
Det er enkelt å åpne en WebMoney konto dersom du ikke allerede har en. Bare klikk på denne linken for å åpne en.
Når du har registrert deg og bemidlet WebMoney kontoen din, kan du sette inn penger umiddelbart til VegasWinner kontoen din, og begynne å spille med en gang.
If you need additional help, click here to access the Help Desk page on their website.
For teknisk støtte via e-post, vennligst kontakt vår Kundeservice på support@wmtransfer.com.
You can also contact the WebMoney technical support call center. You can find this on their Contact page on their site.
Se under for en liste med internasjonale telefonnummer for teknisk støtte:
+7 (495) 727-43-33 – Moscow.

+7 (812) 336-43-18 – St. Petersburg.

+1 (212) 202-66-06 – United States.

+44(203) 239-60-39 -UK.
Instruksjoner
Start by going to //www.wmtransfer.com and select your desired language from the top right hand corner. Once you are ready press the "Sign Up Now" button.

Det kreves 4 trinn for å åpne en WebMoney konto, og det første er å oppgi og bekrefte din personlige informasjon.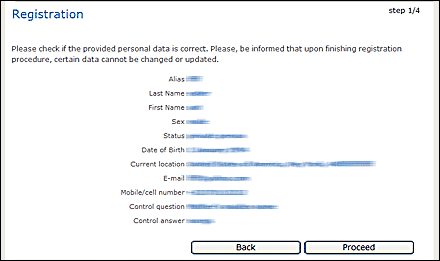 Vennligst merk at all informasjon må være riktig for å kunne fortsette.
Det andre trinnet er å fylle inn registreringskoden som ble sendt til e-postadressne spesifisert i din personlige informasjon. Så snart koden er bekreftet, vil du bli sendt til Mobil verifikasjonssiden.

This page contains instructions for sending an SMS from your phone for Mobile/cell verification.
Please wait for confirmation to proceed.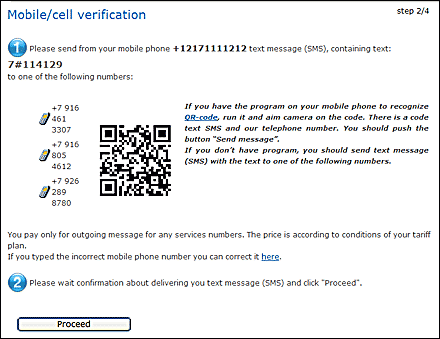 Når din SMS er mottatt, vil vi sende deg en bekreftelsesmelding.
Når du har mottatt bekreftelse, vennligst klikk "Proceed" for å lage kontoen din og fullføre registreringsprosessen.
Tilgjengeligheten avhenger av landet ditt